Brick are the most durable building materials for businesses and homes. However, even they can show signs of wear over time. Improve the appearance and condition of your affected structure with masonry and roofing services in Chicago, IL, from family-owned-and-operated QW Roofing & Masonry Construction. Our roofing contractors perform new roof and flat roof services that ensure your structure is protected from the elements. Surfacing coatings and sealing are available to waterproof your home or business and prevent other weather damage. Contact us today for more information; we serve customers throughout Chicago, IL.
When you hire us, you'll be working with a team of professionals with over 30 years of roofing and masonry experience. Together, we've worked on hundreds of commercial and residential projects ranging from roof installation of flat roofs and shingle roofs to roof coating leak repairs. Our team offers a level of expertise and experience few roofing contractors can match. We look forward to you joining the ranks of our satisfied customers that call on us again and again.
We are committed to delivering roofing services, ensuring your complete satisfaction.
Delivering quality craftsmanship and reliable solutions.
Building strong roofs, one project at a time, to protect and elevate your home.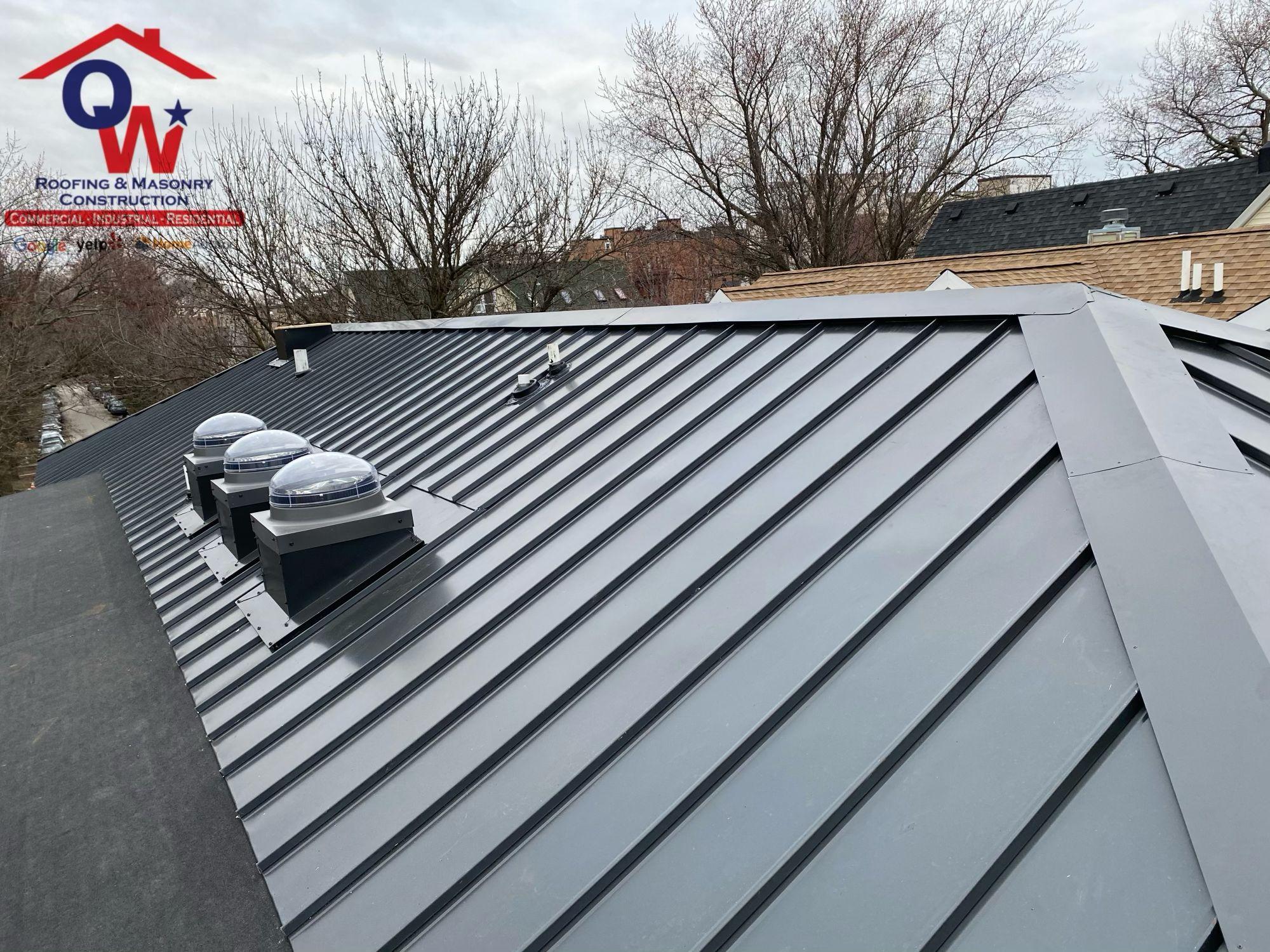 Our Mission
We take our profession and position seriously. Additionally, we do a lot to promote good business practices and solid work within our industry because the higher the bar is set, the better off families and businesses are. Quality is our policy.
OUR EXTENSIVE RESUME IS COMPRISED OF OVER 3,000 PROJECTS COMPLETED
Our diverse project list includes commercial buildings and manufacturing structures.
Trust us to enhance your experience and maximize the value you receive, making your project a success from start to finish.
We pride ourselves on delivering high-quality craftsmanship, exceptional customer service, and long-lasting roofing solutions.
Get Started
Call or email us for a free estimate and consultation.
What our clients are saying about our company and projects
Our clients are more than clients. We're partners — we start at the vision and take every step together
Andrea and Bill
2023-03-09
Tony and the team are best in class. These guys are super communicators and high-quality roofers. They do a top-notch job and I would recommend them WITHOUT HESITATION. I have never seen a contractor with better communication skills or the ability to explain why certain work needs to be done and all the specifics. My neighbors actually commented that they've never seen a harder working group of guys (including weekends). If you are looking for a high-quality team that gets the job done faster and better than expected, I would look no further than Tony and team. I never knew I would rave about a roofing company until I met Quality Way. THANK YOU TONY!
QW was great to work with. We used them for a roof and deck . Tony and his team communicated with us a lot to make sure we had the scope coordinated and understood the warranties. His team was very efficient when they worked and got the job done with little hassle. It was great working with their team and would recommend to others.
Rebecca Snyder
2022-04-05
Tony and his crew were so amazing, professional, super fast, kind and left our yard spotless. Tony was very responsive and communicated with me about the entire process from start to finish, sending videos and explaining the details of our very old roof while he tore it off and replaced it with a new roof. He is extremely knowledgeable and I could tell he loves his job and helping others. It was really nice to be informed about everything and he even took the time to teach me about roofing! 10/10 experience would absolutely recommend his services. I found Quality way from a home investors blog and when I saw their youtube and instagram I was convinced to call, I am glad that I did.
Andrea Behringer
2022-03-16
I would highly recommend Quality Way Roofing. Tony is completely trustworthy and has excellent customer service. Quality Way replaced my roof and installed new decking. Tony and his team were on time, professional, and I completely trusted the work they did. Great company.
We recently had major roof repairs done at our commercial building. As a part of our selection process, we must obtain 3 different quotes before selecting a company. Tony came and immediately knew what needed to get done to prevent the various leaks coming into the building. We are more than happy we chose Quality Way, they know how to take care of their customers and showed much more knowledge than their competitors. Tony was professional and polite throughout the entire process. He answered all questions, provided video updates and thoroughly explained any issues encountered. I highly recommend Tony and Quality Way!
We have used Tony and his guys for our condo building as well as our single family home. They are reasonably priced, do excellent work, and are easy to work with. We will definitely use them again
Outstanding experience with Quality Roof. Our townhome complex had a complicated total tear off and replacement roof. We received numerous bids. Tony, the owner, gave the estimate and was our main point of contact throughout the whole process, unlike some contractors that have a sales dept and then a construction crew in which there is always a disconnect between what is promised and delivered on. Quality's quote was thorough and comparable to other companies that provided the exact same options at a higher price. Tony's responsiveness was impressive. If I sent an email with questions, he'd respond by the end of day. He always answered texts within minutes. He stood behind his promises. He matched a competitors price on new skylight windows for me. Our project was 6 days and Tony was either present onsite some or all the days, sometimes for the entire day to ensure we and our neighbors (whose yard we needed to access for part of the replacement) remained happy. Months later, roof still looks great and leak-proof!
100% recommend! They replaced our roof and put on a new deck for our building and we couldn't be happier with the quality work, professionalism and price. We had three estimates from different companies and they were the most reasonable and we are so happy with their work. Anytime we need this type of work we will call them again.
We recently had our roof replaced by Quality Way. Tony and his crew were some of the best contractors we have worked with! They were extremely responsive to all our questions and requests throughout the project. They delivered a new roof that matched everything we discussed! I would recommend Quality Way to all friends and family!!
Winter Colloton
2020-05-31
Straight forward, great communicators, great price. This is second time we have hired them and we highly recommend !